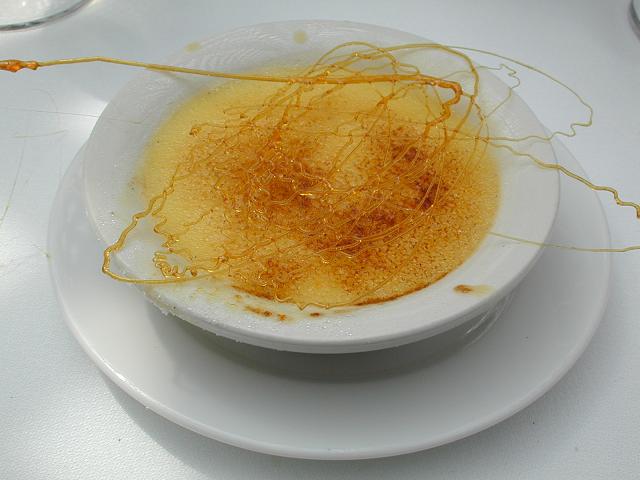 是kaspar's restaurant cooking class的最后一道甜点, 其实非常容易做, 说不上健康, 全是糖, 蛋黄, 奶油, 可是好吃啊!

Bed, Bath and Beyond 有卖Crème Blûelée Set, 四个碗和blowtorch 是$20 (燃料另卖)

Crème Blûelée (Yield: eight 6 ounce servings)

Ingredients:
• 2 and 1/2 cups heavy cream
• ½ cup milk (我用的2%的牛奶)
• 7 egg yolks
• 1 egg
• 1 cup sugar
• 2 tablespoons sugar for top

Preparation:
• Pour heavy cream and milk into a saucepan.
• Bring this mixture to a boil, remove from heat and let the mixture seep until lukewarm.
• Whisk egg yolks, egg and sugar in large mixing bowl.
• Gradually whisk milk mixture into egg mixture until incorporated.
• Transfer to a plastic container and store in the refrigerator overnight to intensity the flavor (其实不用放过夜, 我用的vanilla bean 作香料, 直接就进烤箱了)
• Preheat over to 300ºF
• Strain the mixture through a fine sieve and fill 8 crème blûelée dishes (不一定要过筛)
• Pour enough hot water into roasting pan to come halfway up sides of dish (一定要放开水)
• Bake for about 40 minutes until custard is firm, but center still jiggles slightly when dish is shaken. (烤箱不一样, 要在三十分钟左右用手试试, 大概凝了就可以了)
• Take crème blulee container out of over, remove ceramic dishes from water bath and place in the refrigerator to chill for several hours or overnight. (大概两个小时就可以了)
• Just before serving, sprinkle sugar evenly over the custard. Using a blowtorch, caramelize the sugar until golden brown. (这一步做两次)

PS. 进烤箱之前把碗边擦干净, 否则很难清理.